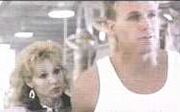 Reb Brown is an actor who played Chunk Manmeat, Blast Hardcheese, Gristle McThornbody, Crud Bonemeal, Buff Hardpack, Dirk Squarejaw, Flint Ironstag, Brick Hardmeat, Smash Lampjaw, Splint Chesthair, Bolt Vanderhuge, Slate Fistcrunch, Lump Beefbroth, Slab Bulkhead, Crunch Buttsteak, Rip Steakface, Punch Sideiron, Bold Bigflank, Smoke Manmuscle, Thick McRunfast, Slab Squatthrust, Gruff Slamchest, Buck Blastchest, and Big McLargehuge in Space Mutiny.
Ad blocker interference detected!
Wikia is a free-to-use site that makes money from advertising. We have a modified experience for viewers using ad blockers

Wikia is not accessible if you've made further modifications. Remove the custom ad blocker rule(s) and the page will load as expected.